Piano Lesson 1 | Piano Lesson 2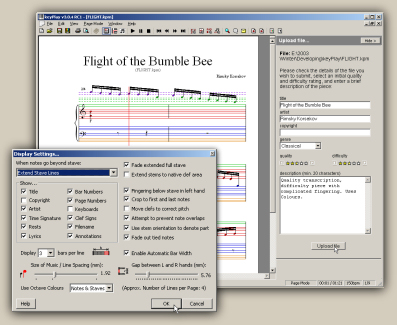 The Ambrose Piano Tabs music editing program allows you to:-
Print Piano sheet music in any font size
Create professional quality piano sheet music
with lyrics, text, pictures with musical annotations and symbols
Listen to piano music as it scrolls the music score
Download, Review and Upload piano files from our free piano music library
Use piano MIDI Files (.mid) from the Internet to create your favourite piano tunes
Edit and display piano music in any font size
Compose and score piano music 
MIDI (.mid) files can store only music . If extra information needed for page layout, lyrics, graphics and music symbols is needed program and must be saved in XML or if using Ambrose method in our propriety file format, APT (extension name .apt)
Download Ambrose Piano Tabs Music Software
The program is free to download and use for non-commercial purposes (for a commercial license, please contact us)
DISCLAIMER (Please read before downloading)
FILES ARE FOR USE BY THE PUBLIC. ANY MODIFICATION TO, OR RESELLING OF, ANY PART OF THESE FILES IS STRICTLY PROHIBITED WITHOUT EXPLICIT PERMISSION OF THE OWNER.
THIS SOFTWARE IS PROVIDED WITH NO WARRANTY. THE DEVELOPER AND OWNER ACCEPT NO RESPONSIBILITY FOR UNDESIRABLE EFFECTS (SUCH AS DATA LOSS, ETC.) ARISING FROM USE OR MISUSE OF THESE FILES. ALTHOUGH THE CODE HAS BEEN RIGOUROUSLY TESTED, THE SOFTWARE IS PROVIDED AS IS.