Software for Editing and Scoring Music. Score and edit Ambose method or traditional music notation.
Music editing software allowing you to output piano solo music in formats including: .XML, .MID, Ambrose Method, Sheet music and Piano MIDI files. Print in any font size and layout the music how you prefer.
This program is free for non-commercial purposes (for a commercial license, please contact us).
Previous Version:


APT v4.2.17 Installation Package download | release notes
Current Version:


APT v4.2.18 Installation Package download | release notes
DISCLAIMER (Please read before downloading)
THESE PIANO FILES ARE FOR USE BY THE PUBLIC. ANY MODIFICATION TO, OR RE-SELLING OF, ANY PART OF THESE FILES IS STRICTLY PROHIBITED WITHOUT EXPLICIT PERMISSION OF THE OWNER.
THIS MUSIC SOFTWARE IS PROVIDED WITHOUT WARRANTY. THE DEVELOPER AND OWNER ACCEPT NO RESPONSIBILITY FOR UNDESIRABLE EFFECTS (SUCH AS DATA LOSS, ETC.) ARISING FROM USE OR MISUSE OF THESE FILES.
THE SOFTWARE IS PROVIDED "AS IS".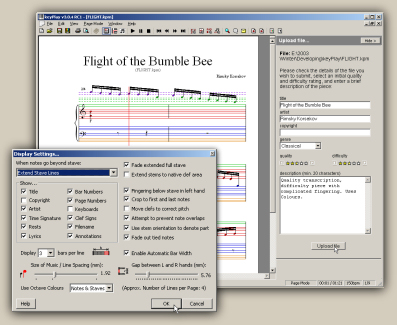 This Music Scoring software allows you to:
Download piano music as MIDI Files (.mid) * or .XML files or PDF sheet music

Edit and export piano music
Export tunes for use with our interactive game
Compose and score piano music and piano sheet music
Create piano music with lyrics, text and musical symbols
Hear and see what you score and while you learn to play piano in playback mode
Download files from our free libray of piano music
Piano Lessons completely free of charge
Upload your compositions to our library and share your music worldwide
*Only musical data is saved in a MIDI file (.mid). To save information required for page layout, lyrics, music symbols etc. we use our own .APT file format.